Gārsene castle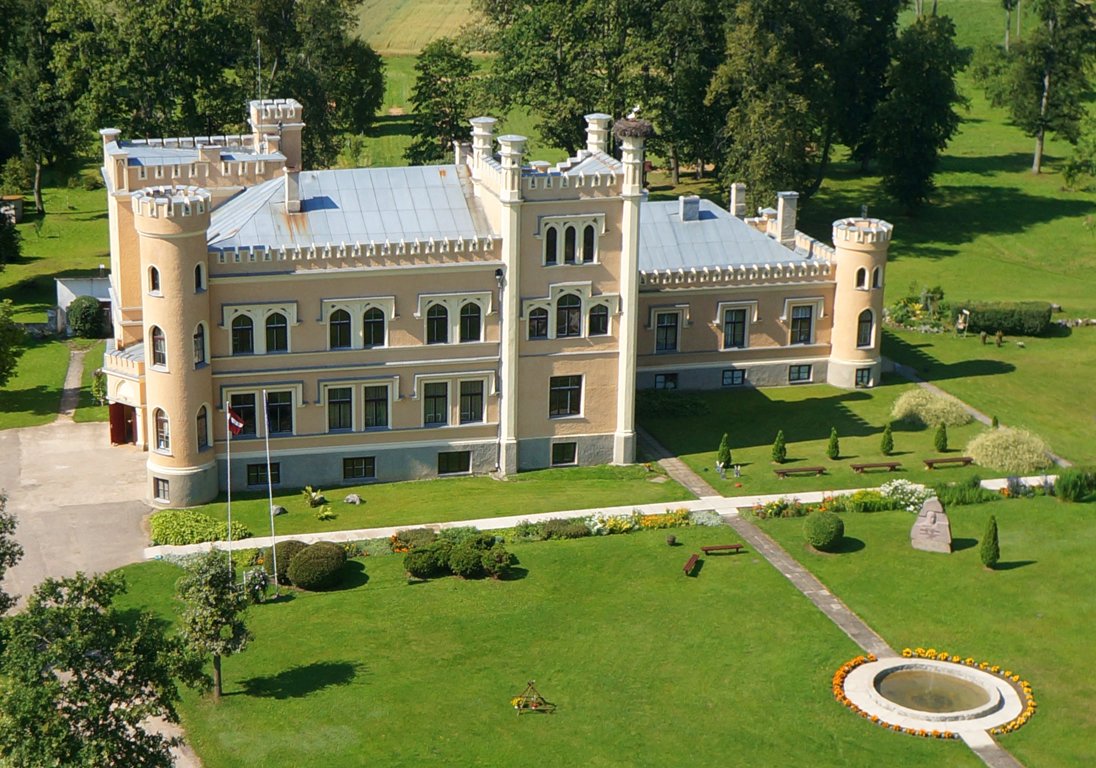 Architectural complex of the manor developed around the rectangular yard in front of the Neo-Gothical manor-house that was built for von Budbergs house around 1856. By old documentries of this family in its origins was built the two-storied part. The other lower outbuilding was walled in 1885. School was rebuilt after the project of the architect Vasilyev for the needs of elementary school in 1939. Since 1940 old manor-house is used by Gārsene Elementary School. Household buildings are situated around the front yard. The 18th century granary and stables with arcade were built beside the manor-house. Old 18th century Mill with Neo-Gothic facade (made in the 2nd half of the 19th century) is situated on the other side of the paved road. Household part of the complex also includes distillery with the house for workers and the servants' house. There also is a wide landscape park with ponds and decorative bridges.
There is museum in the manor-house, its displays are dedicated to the history of von Budbergs' house.

Price list

Gārsene castle, exhibition hall un castle garden – addmission: donations. Accommodation in castle EUR 3.00/ for 1 person 24 hour (mattresses),
EUR 5.00/ for 1 person 24 hour (beds and bedding), EUR 2.00/24 hour - 1 tent.
Rooms for seminars and conferences - EUR 14.50 per hour.
Banquet room for rent - EUR 2.50/ for 1 person.

Services
Rooms and

equipment

for camping
Rooms and

equipment

for organisation of seminars/conferences/banquets

Castle catering in cellar

(service provide farmstead "Rātes" - tel.: 27872199)

Address:
Braucot pa Rīgas - Neretas – Daugavpils šoseju (P73), posma Aknīste – Daugavpils 7. kilometrā nogriežoties pa labi, pēc 3 km Jūs nokļūsit pie Gārsenes pils.
"Labieši", Gārsene, Gārsenes pagasts, LV - 5218; GPS: 56.0994; 25.8098
Tel.: + 371 27819084; + 371 29490656E-mail: garsenespils@akniste.lv